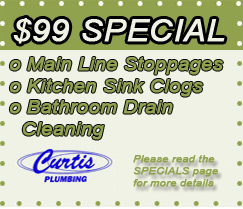 $99 Services, Quick and Friendly
Your first Choice for Rooter Plumbing, Slab Leak and Water Leak Detection
Curtis Plumbing has been in business for over 75 years fixing everything from kitchen sinks to sewage line stoppages. There are no drain cleanings or stoppages too large or difficult for Curtis Plumbing Services. There will be other companies that will advertise drain cleaning for less than Curtis Plumbing, which should be a red flag; there may be a catch with their services. If you come across this issue, ask if that drain cleaner company is licensed and if they have business insurance. Also ask, how many years they have been in business and if they are using the safest and most up to date methods.
If Curtis Plumbing Services can't clear your Back-Up or Clog, the service will be free of charge. We stand by our 100% Satisfaction Guaranteed policy and if you are not completely satisfied with our installation or repair, we will perform the job again to your satisfaction for free. Please note that there is no "House Call" fee on clogs, so this applies to plumbing calls only. In the event of a delay on a stoppage call, please ask for a free "House Call Certificate" for any future plumbing needs.
Here is how the $99 Drain Cleaning and Clog works:
No "House Call" fees for Clogs.
Applies only to residential stoppages.
Applies to all appointments during our regular business hours 7AM–7PM, 7 Days a week
Excludes major holidays
Clogs must be repaired through the cabling method and does not include jetting or other more technical methods.
Does not apply for Chemical Drain Cleaner in drain line*
Clogs or blockages must be within reasonable access; we cannot place our plumbers in dangerous positions.
We do not go through roof vents, as it is a great way to cause roof leaks, while also being an ineffective method of clearing stopped drains.
The rate applies "per clog."
* Additional charges apply if corrosive chemicals were used in the sewage line.
Advantages of Properly Installed Clean-Out include:
Lower "per Blockage" rate
Sewer lines become more easily located
Prevention of flooding inside a home
Clogs become more accessible to standard size blades and cables
Allows for use of Hydro Jet if required
With fewer turns, the stoppage becomes closer, increasing cable strength for greater cleaning ability
Eliminating the need for messy drain cables and machinery inside your home
FAQ's About Clogs and Roof Vents:
Not the best method for clearing blockages thoroughly
Allows for a greater possibility of roof leaks
The right size blade cannot be used
Cables should never go through a smaller pipe to clear a pipe of larger diameter, as this is an exceptional way to get the cable caught in the drain line.
Drain vents use non-directional fittings which are very different than actual drain lines, and often results in trapped cables.
The vents are usually too far from the stoppage and working through too many turns reduces the strength of the cable to effectively clear the blockage.
It is an unnecessarily hazardous procedure and we wish to prevent anybody from getting injured.
In the event of a delay on a plumbing call, please ask for a free "House Call Certificate." We do not clean main drains or sewers through an interior cleanout, as opening an inside cleanout while the drain is backed up will cause sewage to run out into your inside living space. We also do not remove toilets to gain access to clear a main drain or sewer. One thing you absolutely do not want in your living space is a drain cleaning machine and cable, where the cable was just recently pulled out of somebody else's sewer. All readily accessible sewer or main drain cleanout must be 3″ or larger, with a plug or cover joined to an opening in the pipe, which can be removed for the purpose of cleaning or examining the interior of the pipe. Some cleanouts, such as under the house, are not considered accessible. If we cannot clear your blockage by the cabling method, we will not charge you for the service. If you are not completely satisfied with our installation or repair service, we will do the job again until we reach your total satisfaction. Our service is guaranteed!
Please Note:
Curtis Plumbing does not provide services for: Area Drains, Patio Drains, Deck Drains, Pool Drains, Roof Drains, Yard Drains and Rain Gutters.

Height Restrictions: All repairs must to be on the 1st or 2nd floor of any multistory building and no service will be provided to buildings (regardless of the floor) that are taller than ten stories.